I love this line up. Some of the coolest, best customs ever produced are by the artists on this roster.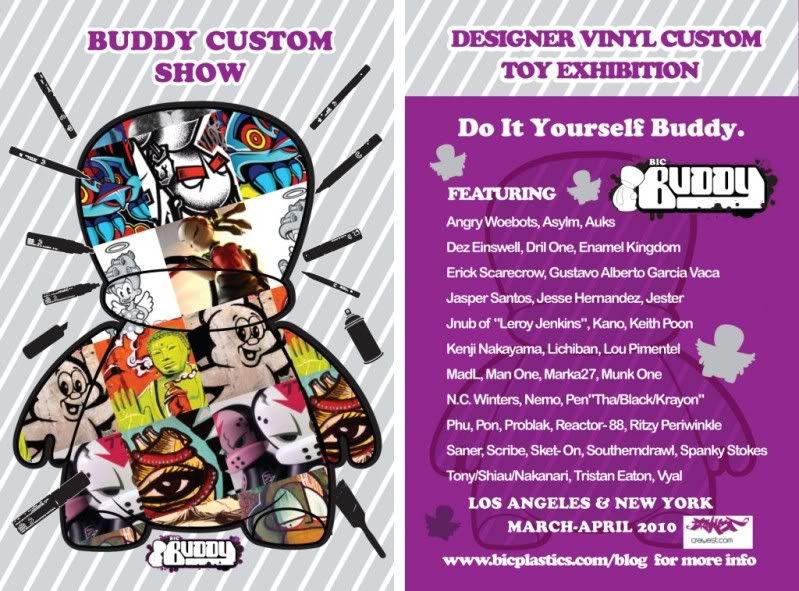 From Vinyl Pulse, "BIC Plastics will launch the new 8" BIC Buddy designed by Marka27 with a two city BIC Buddy Custom show in March-April of 2010 in NYC and LA. The just announced lineup includes Angry Woebots, Asylm, Auks, Dez Einswell, DrilOne, Enamel Kingdom, Erick Scarecrow, Gustavo Alberto Garcia Vaca, Jasper Santos, Jesse Hernandez, Jester, Jnub of "Leroy Jenkins", kaNO, Keith Poon, Kenji Nakayama, Lichiban, Lou Pimentel, MAD, Man One, Marka27, Munk One, NC Winters, Nemo, Pen 'Tha/Black/Krayon", Phu!, Pon, Problak, Reactor-88, Ritzy Periwinkle, Saner, Scribe, Sket-One, Southerndrawl, Spankystokes, Nakanari, Tristan Eaton, Vyal.
Shaping up to be one of the first blockbuster custom shows of 2010. Looking forward to previews ;-)"

Better get crackin' if I want to keep up.